"The benefits of cash with the security of not having to carry cash!"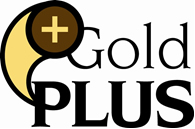 About GoldPLUS
GoldPLUS works like a debit account, but is encoded right on the Lehigh ID card. GoldPLUS is open to all students, faculty and staff with a valid Lehigh University ID card. GoldPLUS is accepted at hundreds of locations on and off campus, and the balance carries over until you graduate, upon which any remaining balance will be refunded.
To open an account, complete the application and remit with payment to the GoldPLUS office, or stop by the GoldPLUS office located in the IDEAL Office at 42 University Drive, or online via theCampus Portal (Bursar Charge only). Additional deposits may be made by account holders and parents & family (see Deposit Options).
If your ID card is lost or stolen, deactivate it immediately online by logging on the Campus Portal, My Lehigh tab, My GoldPLUS channel, and deactivate your GoldPLUS account yourself. Or, contact the GoldPLUS office at 610-758-6169 during normal business hours. Unauthorized charges prior to the GoldPLUS office being notified will be your responsibility.
See all terms and conditions.

Important Forms