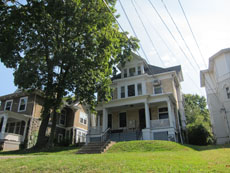 230 W. Packer House is located at 230 W. Packer Avenue on Lehigh University's Asa Packer Campus. The residence houses 5 graduate students.
230 W. Packer is just across the street from Packer House, home of the Office of Graduate Student Life and the Graduate Student Center.
230 W. Packer House is on the TRACS (Take a Ride Around Campus Safely) bus route and is in easy walking distance to academic buildings as well as Bethlehem's South Side.
More information on living in 230 W. Packer >