If you are interested in a room change for any reason, you should contact your Gryphon or any Gryphon in your building. There is a Gryphon located on each floor/wing/hall depending on the size of the building. Gryphons are upper class students who serve in a leadership role for students living in residence halls. Gryphons are advocates, mentors, role models, administrators, policy enforcers, and resource providers in addition to being leaders. They are responsible for promoting an inclusive, supportive, and engaging environment in the residence halls. If you have difficulty locating your Gryphon, please contact the Office of Residence Life to get connected.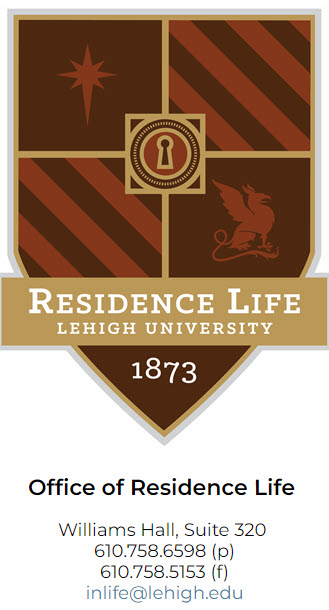 Fall 2022 Room Change timeline
August 24, 2022 Students may start contacting Gryphons about the room change process
September 6, 2022 Room Change offers will begin
Things to understand regarding a room change:
Once you are added to the room change waiting list by someone in Residence Life, you will either receive a room change offer (typically 2-3 business days), or you will receive a weekly email of available spaces (if our spaces do not match your request). This way you can decide to change/update your request and select a vacant space at anytime throughout the semester without having to go back to Residence Life to make request changes. You will remain on the waiting list for a room change until you remove yourself, your make a room change, or the timeframe for room changes within the current semester ends. The room change waiting list does not roll from semester to semester.
Housing Services will send all housing offers and emails of available spaces. If you wish to look at an available space and/or meet your potential roommate(s), Housing Services will coordinate this with you through the Office of Residence Life utilizing the Gryphons on call (8-10 PM week nights and throughout the days on weekends). All students living in spaces where a vacancy exists are notified of the vacancy and of the chance that the space could be utilized in the room change process. The current resident does not have the ability to deny a room change and should not present the vacancy as unavailable. In the unfortunate situation of this happening, please notify Housing Services or Residence Life immediately.
If a room change is offered and accepted, keys will be picked up from either Housing Services, or the LU Police Station. You will be given 48 hours to complete your room change. You will be given dual card access to both building locations to complete your room change.
Important Note Regarding Room Charge and/or Meal Plan Charge Adjustments:
You will be responsible for any increase or credited for any decrease in room or meal plan cost resulting from a room change. If you are eligible based on the room change to adjust your meal plan, you will be notified and given a specific timeframe within which you may make a change.
Both room and meal plan charge adjustments are processed on a daily rate basis as of the date the room change begins.