Student Auxiliary Services operates a variety of vending machines at locations throughout the campus.  Machines are equipped to accept cash and as an added convenience to vending customers, GoldPlus may be used in most machines across campus.
Campus vending is operated by Canteen Vending Services, a national vending machine operating company, and provides students, faculty, staff and visitors a wide selection of fresh, convenient, and reasonably priced food, beverage and assorted products.  Available vending products include: soft drinks, bottled water, juice, coffee, candy, snacks, and pastries.
If you discover a vending machine that is not working properly, please contact Student Auxiliary Services at 610-758-3500 to report the problem or call Canteen directly at 800-254-1975.  The more information you can provide, the faster it can be corrected. 
Please provide the following:
Product (beverage, snack, etc.)
Machine number
Building/Location
Brief description of the problem
Client / Customer Communication: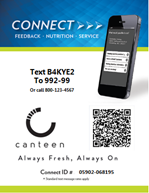 Canteen Connect!
Canteen, our vending service provider, is taking customer service to a whole new level with Canteen Connect. Canteen has added a new "Canteen Connect" service sticker to each of its vending machines that gives customers three ways to connect to their local customer service team:
QR Code
Text
Telephone Number
Canteen's goal is total customer satisfaction. If you have an issue with the equipment – or just want to request a new product – Canteen Connect is here to help!
The web-based mobile app enables you to give feedback quickly and easily. In just a few clicks, you can connect the following areas:
Vending machine problem? (service issues)
Need a refund?
Vending Nutrition Information
How are we doing? (survey)
Canteen Connect is here and ready to serve you!