GoldPLUS "Lucky 13" Celebration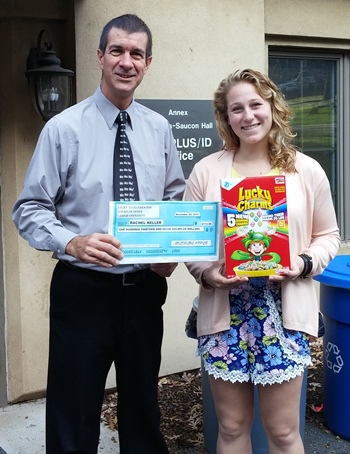 GoldPLUS "Lucky 13" Celebration Grand Prize Winners
Congratulations to JACOB RAHIMZADEH and RACHEL KELLER (shown here with GoldPLUS Manager Will Hlay) for having the 131313th swipe of the semester on-campus and off-campus, respectively.
Their prizes include $113 in GoldPLUS, a gift basket, and various other prizes.
GoldPLUS "Lucky 13" Celebration Participating Merchants
Campus Pizza
Dining Services
Domino's Pizza
Express Tanning Bethlehem
The Goosemen
Jenny's Kuali
Lehigh Pizza
Molly's Irish Grille
Residence Halls Laundry
Rite Aid
Saxbys Coffee
Subway
Sunset California Tan
Upscale Stylez
The Yoga Loft
"Lucky 13" Gift Basket Winners
Jacob Anderson
Ashley Balliett
Carl Blew
Jeff Brietling
Mikayla Cleary-Hammarstedt
Jenny DiPietro
Sabrina Fineberg
Danielle Fox
Jeremy Glennon
Gabe Herrera
Lexi Jabour
Annika Jahn
Katherine Jalboot
Aaron Nace
Jonathan Ockert
Meg Raitt
Angel Rollo
Alec Rudin
Gabrielle Schrier
Will Sheehan
Rachel Shields
Peyton Stein
Christopher Tsinontides
Hannah Yahraus
View Official GoldPLUS "Lucky 13" Celebration Rules & Regulations
Use your GoldPLUS at participating merchants beginning September 4th to be eligible to win!