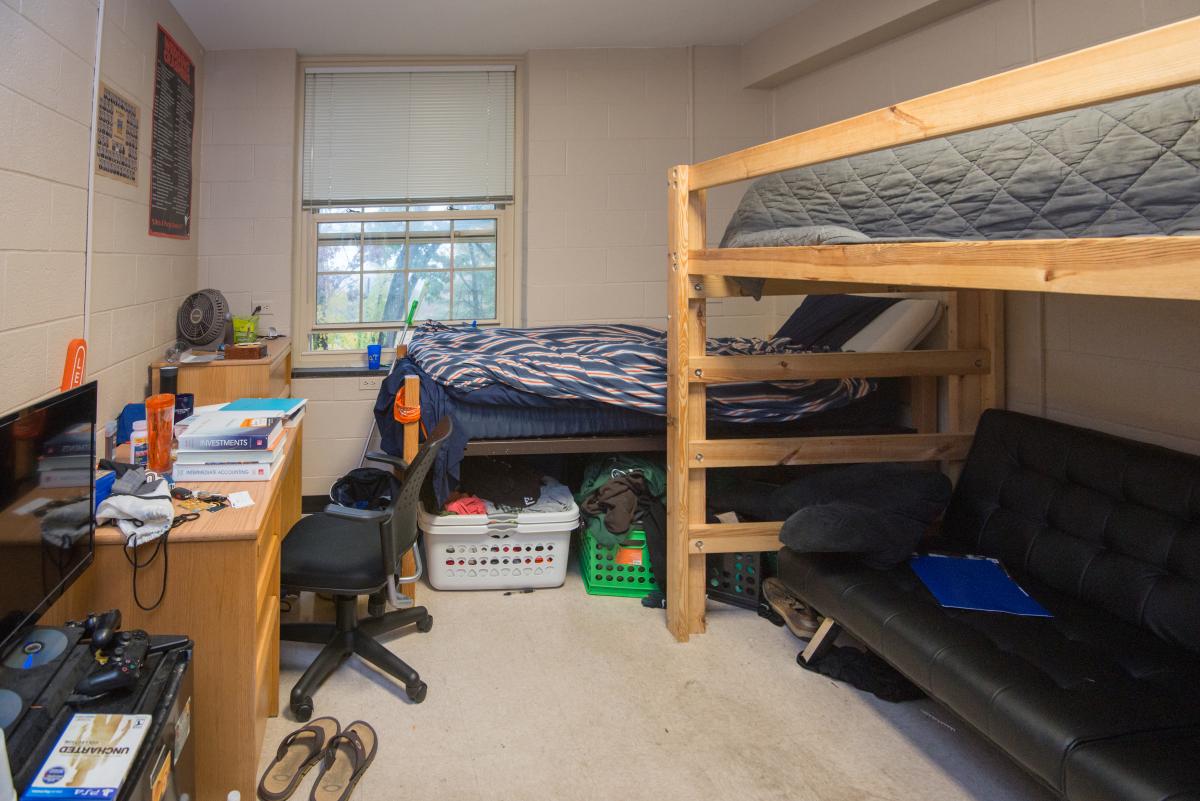 Loft Safety Guidelines and Sample Construction Specifications
Lofts are permitted in residential buildings. You must submit a loft waiver to have an approved loft. The policies concerned in constructing a loft are outlined below.
 
Disclaimer: You are fully responsible for complying with the sample specifications set forth below. The university will not at any time inspect your loft to determine whether it is constructed in accordance with these sample specifications. As stated on the attached waiver of liability and assumption of risk form, you are voluntarily assuming all risks associated with the construction and use of your loft.
The following policies must be upheld, as they are a part of the General Provisions for Student Occupancy and fire safety standards:
A Student Waiver of Liability and Assumption of Risk form must be submitted to Housing Services prior to loft construction.
The loft must be free standing.
Lofts cannot obstruct fire safety equipment such as smoke detectors and sprinklers. Items in the room cannot be positioned in such a way as to block the lateral dispersal of water should the sprinkler head be activated. The sprinkler head, if wall mounted, will have no items in the room higher than 18 inches below the sprinkler head.
No furniture can be removed from the room.
Lofts must be removed when the occupant vacates the room, including summer.
Lofts cannot be constructed inside buildings. All pieces should be cut and prepared prior to entering the building. Assembly can occur in the rooms.
Lofts cannot obstruct doors. A clear path to the door must be maintained.
Platforms, decks, or structures used as addition floor surfaces cannot be built. The bed must be on top of the loft, and the loft cannot be enclosed in anyway.
No electric appliances or cords may be attached to, hung on, or draped over or near a loft.
The following sample specifications are provided for your use in constructing a sound loft:
A loft is intended for one person occupancy and should have a single (twin or full) bed.
Lofts should have at least 36" clearance from the top of the mattress to the ceiling and no part of the loft structure may extend above the top of the mattress.
A ladder should be attached to the loft, and bed rails are recommended.
Construction materials should be in good condition, and lumber should be fire retardant (stamped "non com") or painted with fire retardant paint.
Carriage bolts, nuts, lag screws and washers should be used to assemble the loft.
The bed frame support should be at least 4" x 4" and support both sides and both ends.
Vertical support should be at least 4" x 4" and provide support at four different corners of the bed frame. Vertical supports should rest directly on the floor.
Cross bracing should be attached to at least one end and one side of the loft.
If a box spring unit is used, a minimum of 4 cross pieces that are 1" x 2" slats should be used.
If plywood is used instead of a box spring, the plywood should be at least ½" thick.
Tools and materials must be supplied and constructed by the resident.