The majority of the rooms have a 5 drawer dresser.
Dimensions: 30 x 20 x 47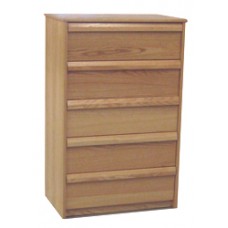 The Homestead Collection by Savoy is manufactured of hardwood plywood panels, high pressure laminate tops with bullnosed solid oak edges, and drawer fronts with finger pull overlays.
The Homestead Chests and Dressers by Savoy feature high pressure laminate tops with oak bullnose edge with full length finger pull overlays on English dove tail equal size drawers.
The interchangeable rooms (single/double and double/triple) feature a newer style dresser which is designed to either fit under the bed or stacks to make a taller dresser. This allows more flexibility in a room where three people are living. Each student is given 2 of these 2 drawer stackable dressers.
Dimensions: 30 x 20 x 22