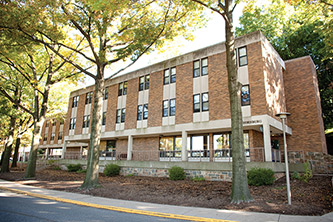 Centennial Drive
Bethlehem, PA 18015
United States
Locate the building on the interactive campus map >
---
The Centennial I complex is comprised of six buildings located directly across from the Rathbone Dining Hall. Congdon, Emery, Leavitt, McConn, Smiley and Thornburg each house 44 students, with 22 students on each floor. Centennial I houses first year students only.
Each student has a desk, desk chair, bookshelf, bed, dresser, medicine cabinet with mirror and a closet.
The first floor features a multifunction area with a large TV room, game room, a study area and kitchen. Laundry facilities and a vending area are centrally located within the complex.
| | | |
| --- | --- | --- |
| Building Floor Plans   (password protected) |   | Building Videos |
| Congdon and Emery: |   | |
| |   | |
| Leavitt and McConn: |   | |
| |   |   |
| Smiley and Thornburg: |   |   |
| |   |   |