Frame: Solid Hardwood
Dimensions: 85 x 38 x 36
Mattress size is 80" x 36"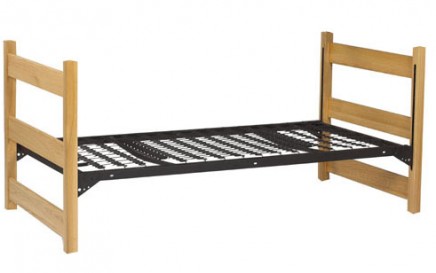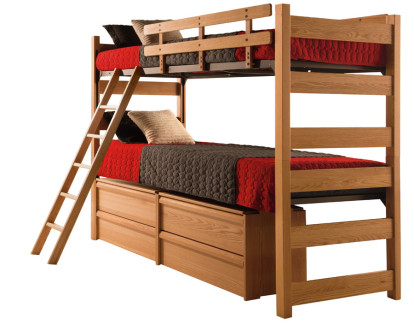 Storage
All beds provided by Lehigh provide you with flexibility, comfort and extensive storage capability beneath. The metal frame that the mattress rests on can be set in the bed ends so that the underbed height is either 14" or 22".
Beds may only be lifted off the ground by bed risers. One set of bed risers is permitted per bed but cannot be used in conjunction with bunk beds. Bed risers are not provided by the University.
Anti-Bed Bug
The ultra snug-fit recessed steel inserts, combined with an "L" channel frame sinuous spring and an inverted seam mattress all work together to ensure your bed is a "no hide zone" for insects.
Toolless
Convert the bed from a single bed, to bunked all without the use of tools. Safety/guard rails are suggested when bunking beds or lofting over 30″ high.
Bunk Beds, Bunking Pins, and Bed Rails
All University beds can be bunked. Students choosing to bunk their University beds must do so using University issued bunking pins. Bunking pins are available upon request on opening day and throughout the year at the Office of Housing Services. Bed rails are required for students who choose to bunk their university-issued beds. Bedrails will be delivered shortly after bunking pins are issued. Bunk bed pins should not be used to construct lofts with other bed ends for two reasons: