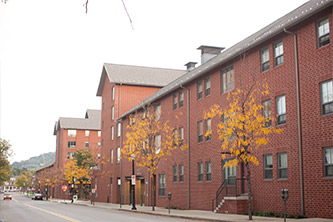 11 and 23 Asa Drive/8 West Morton Street
Bethlehem, PA 18015
United States
Locate the building on the interactive campus map >
Gender inclusive restroom located on the first floor of Farrington Square D.
---
The Farrington Square apartment complex houses 244 upper-class students in two-, three- and four-person air-conditioned apartments.
Each apartment features single bedrooms as well as a living room furnished with a lounge chair, sofa, coffee table, end table, and a TV stand. The kitchen includes a refrigerator/freezer, an oven and a range. A table and two chairs are provided in the dining area. Furniture in each bedroom includes a bed, desk, desk chair, bookshelf, dresser and a closet.
Laundry rooms, vending areas, and lounges are located throughout the complex. A TV lounge/game room is located at the east end of the complex. The Farrington Square complex also includes the Lehigh University Bookstore, an ice cream shop, campus market, bagel store and patio area.