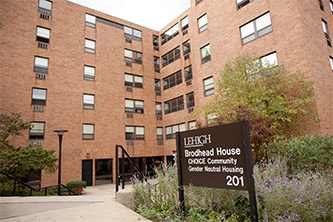 107 West Morton Street
Bethlehem, PA 18015
United States
Locate the building on the interactive campus map >
---
Brodhead is a six-story high-rise residence hall for second year students. The building is named in memory of Albert Brodhead, a member of the Class of 1888 who died in 1933, leaving 51 Bethlehem properties to his alma mater.
This residence hall is co-ed and houses 200 students in four-person air-conditioned suites. Each suite features a double and two single bedrooms or two double bedrooms, as well as a furnished lounge area and private bathroom.
The movable bedroom furniture includes a bed, desk, desk chair and closet space with drawers for each student. The common area is furnished with a table with four chairs, a sofa, an end table with a lamp and a TV stand.
A university dining facility is located on the ground floor. Students with dining plans are able to access the Brodhead Dining Hall upon request if they do not live in Brodhead House. To request dining hall access, please fill out the Brodhead Dining Access Request Form. Vending machines, a large TV/game room and laundry facilities are also located on the ground floor. Each upper floor, which is accessible by elevator, has a kitchenette, a common area and most have study rooms. A fitness room is located on the third floor.
| | | |
| --- | --- | --- |
| Building Floor Plans   (password protected) |   | Building Videos |
| |   | |
| |   | |
| |   | |
| |   | |
| |   | |