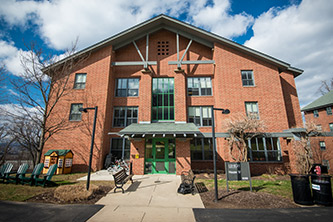 109A-D Upper Sayre Park Road
Bethlehem, PA 18015
United States
Gender inclusive restrooms located on second floors.
---
Sayre Park Village houses 146 upper-class students in three residential buildings and one commons building.
The buildings feature four-person apartments with a limited number of three-person apartments. All apartments have single bedrooms, furnished with a bed, desk, desk chair, dresser, bookshelf and a closet. Each apartment has a private bathroom, a full kitchen including a refrigerator/freezer, an oven and a range, a living room furnished with a sofa, a lounge chair, a coffee table, an end table, and a TV stand. A dining area includes a table and four chairs. All apartments are air-conditioned.
Each of the three residential buildings has a common lounge, laundry facilities, and study room. The commons building has a lounge, classroom, kitchen, and a game area.
| | | |
| --- | --- | --- |
| Building Floor Plans (password protected) |   | Building Videos  |
| Sayre Park A |   | |
| |   | |
| |   | |
| |   | |
| |   | |
|   |   | |
| Sayre Park B |   | |
| |   |   |
| |   |   |
| |   |   |
| |   |   |
|   |   |   |
| Sayre Park C |   |   |
| |   |   |
| |   |   |
| |   |   |
| |   |   |