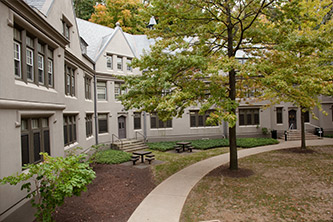 68 University Drive
Bethlehem, PA 18015
United States
Gender inclusive restroom located on the first floor.
 
---
Taylor House is situated next to the entrance of Sayre Park on University Drive. The U-shaped building is one of the earliest concrete structures ever built. It was the gift of industrialist Andrew Carnegie in honor of his friend and associate University trustee Charles L. Taylor, Class of 1876. The interior of the building was reconstructed and the exterior refinished prior to the facility becoming Lehigh's first residential college in 1984. 
Taylor houses 130 first students on both single-gender hallways and co-ed hallways with single-gender bathrooms. All of the rooms are doubles or singles.
All of the rooms contain movable furniture including a bed, desk, desk chair, dresser, and wardrobe for each student.
The building is divided into three sections, each with a large multipurpose room with a kitchen and TV. Each living area contains separate study facilities. Vending machines and laundry facilities are centrally located on the first floor. The building is fully air-conditioned.
 
| | | |
| --- | --- | --- |
| Building Floor Plans (password protected) |   | Building Videos |
| |   | |
| |   | |
| |   | |
|   |   | |
|   |   | |
|   |   | |