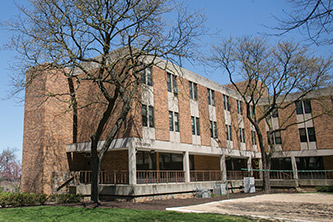 Centennial Drive
Bethlehem, PA 18015
United States
Locate the building on the interactive campus map >
---
The Centennial II complex for first-year students is located on the east side of campus below Rathbone Hall. The complex is comprised of six individual buildings: Beardslee, Carothers, Palmer, Stevens, Stoughton, and Williams. The six houses are arranged in a quadrangle with an emphasis on interaction among all the residents in the grass courtyard and volleyball pit.
Each building houses 44-54 first-year students. Most of the rooms are doubles with a few triples and quads that feature private bathrooms. Each student has a desk, desk chair, bookshelf, bed, dresser, medicine cabinet with mirror and a closet.
A multifunction area is located on the first floor of each building and features a TV room, game room, two study areas and a kitchen.
| | | |
| --- | --- | --- |
| Building Floor Plans (password protected) |   | Building Videos |
| Beardslee and Carothers: |   | |
| |   | |
| |   | |
| |   |   |
| Stevens and Palmer: |   |   |
| |   |   |
| |   |   |
| |   |   |
| Williams and Stoughton: |   |   |
| |   |   |
| |   |   |
| |   |   |