Four Payment Plan (4PP) 
Enrollment in the Four Payment Plan is optional.  Only complete the 4PP application if you want to break your semester billing into four installments.  The calculations for the 4PP are an estimate of your semester charges, as the application and your first installment payment will be due prior to the Semester Billing. If you are a part time student and would like to participate, please reach out to our office for the part time form.
We're now using DocuSign for the 4PP.  We require that one of the signatures is associated with the student's Lehigh email address.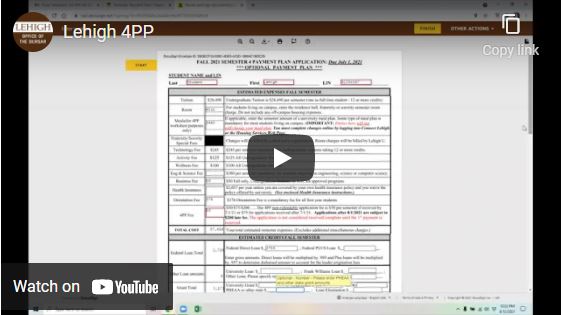 Please do not use any special characters when completing the form in docuSign, use numbers only.
Plan Description
Lehigh University's Four Payment Plan (4PP) is designed to allow undergraduate students to pay all or part of Lehigh's semester tuition, room and board in four equal monthly installments, rather than paying one lump sum at the beginning of each semester. The DocuSign 4PP Application can be found on the forms page of our website. A new payment plan must be submitted each semester. Lehigh reserves the right to prohibit students from using this option in cases where there has been a history of delinquent payments.
Application Deadline
The deadline to participate in the plan is July 1 (Fall) and December 1 (Spring). Applications will be accepted after the due dates, but any missed installments must be paid. Semester late payment charges may be applied for plans established after due dates. Please use the following guidelines when sending applications and payments after the due date:
Apply after:


---

# of Installments Due with Application
Application Late Fee(s)
Next Installment Due Date *
July 1  (Fall)
December 1 (Spring)

1

$75/$200

August 1 (Fall)
January 2 (Spring)
Applications received after after August 1st  for Fall semester and January 2nd for Spring semester are subject to a $200 late fee. 
If an application is received after the stated due dates, the payment plan may not be reflected on the next invoice. However, payment is still due as stated in the payment plan agreement. 
A non-refundable application fee of $50.00 is due with each payment plan application.
Maximum Plan Amount
The maximum plan amount cannot exceed the University tuition, room, board and fees for an academic semester.
Schedule of Installments
One fourth of the total payment plan amount is due the first day of each month, per semester, beginning July 1 through October 1 (Fall); and December 1 through March 1 (Spring).
Application of Plan Amount
Your tuition bill in July and December will show all the monthly payment plan amounts as charges, and the entire payment plan amount as a credit. This is done to balance the Bursar account with the addition of the 4PP.
Finance Charge
There is no finance charge.
Invoices
During the second week of each month preceding an installment due date, a billing statement will be available online. Installments are due in the Bursar's Office as listed in the 4PP application.
Late Payment Fee
Any monthly installment not paid by the stated due date will be charged a $25 per month, per installment late payment fee.
Returned Check Fee
A $35.00 fee will be charged for any check that is returned unpaid to Lehigh. Because replacement of a returned check usually results in a late installment, a late payment fee may also apply. The University reserves the right to require a certified check or money order on all installments from individuals who have previously remitted a check that was returned to our bank.
Default
If an installment is not received by the end of a calendar month in which it is due, the payment plan account may be canceled. The total remaining unpaid balance, including any late payment fees, will be transferred to the student's Bursar account and will be due immediately. This may result in the assessment of additional late payment fees by the University.